Since 2009, Charter Pipe has provided its customers with quality service and supply of premium products. Our industry experts have deep knowledge in all areas of pipe manufacturing, pipe management and logistics.

We pride ourselves on being nimble, flexible and able to service our client's needs with much smaller overhead than our competition.
Charter Pipe has one of the most diverse and experienced staff in the OCTG market.  This includes years of experience in Pipe Inspection, Premium and Semi-Premium Connection sales, Supply Chain Management, OCTG/Line Pipe manufacturing, and Corrosion Control.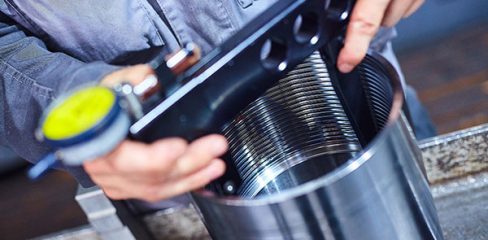 Charter Pipe has the financial backing to service any size project. Our service team is ready to answer the phone when you call.

Request a quote today >
Electromagnetic Inspection (EMI)

Special End Area (SEA)

Ultrasonic Inspection (UT)

Magnetic Particle Inspection (MPI)

Dye Penetrant (DP)
OCTG/Line Pipe manufacturing
On hands knowledge of ERW and SMLS pipe manufacturing from melting of scrap steel into billets/slabs, forming slabs into coil, piercing billets or rolling coil into tubes, heat treatment, threading and finishing, and then inspection of finished pipe.
Utilizing multiple pipe mill sources to obtain the best product at the most economical cost possible.

Manage multiple rig schedules efficiently and prioritize on-time delivery when supply is requested.

Apply in house forecasting model to better predict material needs.

Personal attention to detail on every order with clear communication to field personnel to prevent issues.
Complete understanding of the many types, and application, of specialized internal and external coatings to prevent corrosion of tubulars downhole.
Premium and Semi-Premium Connections
Firsthand experience with the specifications and application of both Premium and Semi-Premium Connections.

Metal Seal Premium connections for the most extreme environments.  Flush Joint, Semi-Flush Joint, and Threaded & Coupled.

Semi-Premium connections for operations needing high torque for rotating where downhole conditions are not too extreme.
If you have questions or would like to request a quote please send us a message and we'll get right back to you.
Charter Pipe has a variety of quality ERW and SMLS mills to support any OCTG or Line Pipe requirement. With our unique investment partner Sooner Pipe, we've developed a supply agreement with United States Steel and TMK IPSCO to better serve our customer base. Charter Pipe has access to a full line of Premium, Semi-Premium, Semi-Flush Joint, and Flush Joint connections to handle any type of application requiring better than API.